Soybean is grown in coastal region of the southern part in Bangladesh under rainfed conditions due to absence of precipitations during the growing season. The crop experiences different degrees of salinity and water shortage simultaneously.
To address this complex situation the article concerning the relative leaf water content, leaf water potential, leaf temperature, xylem exudation and proline accumulation in selected soybean genotypes namely Galarsum, BD 2331 and BARI Soybean-6 to salt and water stress conditions is published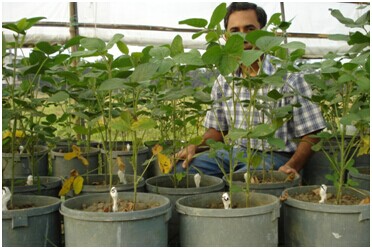 The principal author Md. Shawquat Ali Khan, Senior Scientific Officer of Bangladesh Agricultural Research Institute (BARI) has conducted this research work under the supervision of Professor M. Abdul Karim and with the cooperation of his colleagues Abullah-Al-Mahmud, Shahana Parveen, Md. Mahfuz Bazzaz and Md. Altaf Hossain at Banghabandhu Sheikh Mujibur Rahman Agricultural University (BSMRAU), Salna, Gazipur, Bangladesh.
In this paper Khan states that both salinity and water shortage affect the plant process through reducing water availability, which is reflected by relative leaf water content, leaf water potential and xylem exudation. Khan has suggested that leaf water potential may differentiate soybean genotypes based on their comparative tolerance under salt and water stress environment. The exudation rate of plant sap becomes slower under salt and water stress than non stress. Khan has reported that comparatively tolerant genotype Galarsum maintained higher exudation rate under combined stress of salt and water shortage than others.
Khan has also reported that the highest proline content of 2.34 μmoles g-1 fresh weight is recorded in Galarsum at 75 mM NaCl salt combined with water stress environment which make it more capable to uptake water than BD 2331 and BARI Soybean-6. The highest amount of proline accumulation in the leaf tissues of the soybean genotype Galarsum under the salt and water stress might be due to osmoregulation in cells that allows additional water uptake from the stress environment.
Paper link:
http://www.sciencepublishinggroup.com/journal/paperinfo.aspx?journalid=215&doi=10.11648/j.jps.20150305.15