Road Traffic Injuries, the Neglected Cause of Death and Injury on the Kenyan Road
Road traffic injuries have been reported to be a major cause of death and disability in Kenya posing a serious public health concern for the developing country. Interestingly the total cost associated with the losses from death and injuries occasioned by accidents exceed the total annual development aid and loans received from the developed countries (World Bank, 2010).
The occurrence of a road traffic accident portends a series of questions of how to efficiently respond to the emergency, so as to minimize loss and expedite the rate of rescue operations. Research suggests that Kenya has one of the highest road fatality rates in relation to vehicle ownership in the world, with an average of 7 deaths from 35 crashes occurring daily, which is 30-40 times greater than in highly motorized countries.
Lead author Julius Nyerere who conducted the research for his master's degree in applied statistics, analyzed accident data obtained from Nairobi traffic police department with the aim of fitting a model to enhance the prediction of injuries in the county. This would subsequently aid policy makers, medical practitioners, traffic police to embrace a collaborative decision framework in tackling the neglected cause of death and disability. Current interventions are sporadic, uncoordinated and ineffective despite the huge economic burden
In order to structure the problem of road traffic injuries, key players were identified as drivers, pedal-cyclists, pedestrians, passengers, animals, animals, obstruction, vehicle-defects, road-defects and weather. Of these players, the study concluded that drivers, pedal cyclists, pedestrians and passengers significantly determined the monthly number of injuries in Nairobi County.
Injury attributed to drivers mainly resulted from excessive speed, careless overtaking, losing control and misjudged clearance. The research also noted that pedestrians accounted for the majority of cases in Nairobi, as a result them being heedless of traffic when walking. This could have informed the decision of the County government of erecting fly-overs across the major roads in the city. Apparent error of judgment and negligence was highlighted to increase the propensity of an accident being caused by a pedal-cyclist. With approximately 10,000 public service vehicle plying different routes ferrying passengers to and from the County, improper boarding and alighting by the passengers was identified to be factors contributing to passenger injuries.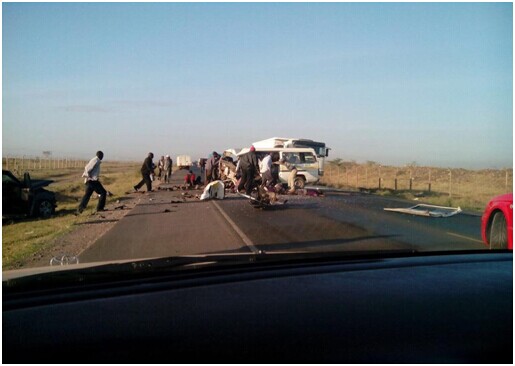 Accident scene along the Eastern Bypass near Utawala, Nairobi County, 24TH February 2015.
The number of accidents in Nairobi County has continued to sour to the extent that several public hospitals have dedicated some wards to victims of accidents. Notably Kenyatta National Hospital's wards 6A, C and D have been converted into emergency wards to receive the swelling number of motorcycle victims alone. "As a national referral hospital managing other terminal conditions medical conditions, the continued disruption caused by traffic accident victims, is alarming and it is high time we step out to seek a multi-sector approach to curb these accidents." Kenyatta National Hospital chief executive officer, Dr. Lily Koros Tare disclosed. Increased understanding of the empirical behavior in road traffic injuries will thus improve the prerequisites for the appropriate design of systems and principles of effective response.
A paper about the study appeared recently in the American Journal of Theoretical and Applied Statistics.
Paper link:
http://www.sciencepublishinggroup.com/journal/paperinfo.aspx?journalid=146&doi=10.11648/j.ajtas.20150403.24