Researchers have discovered a significant link between the pregnant women's exposure to low doses of Atrazine and increased risk of adverse pregnancy outcomes such as miscarriage, intrauterine growth retardation (IUGR) and preterm birth.
Atrazine is a herbicide used to control weeds in cultivation of corn, sugarcane and other crops. After oral ingestion of food or water contaminated with atrazine, most of it will pass through the intestine into the bloodstream and then distributed to many parts of body especially placenta in a pregnant female.
The researchers, led by Samah Ibrahim, a lecturer in the faculty of medicine -Cairo university reported their finding in American Journal of Clinical and Experimental Medicine in 2015. Dr. Ibrahim says: "pregnant females should be aware that many herbicides-including atrazine- have strong placental adverse effects especially on its apoptotic genes that could lead to its death."
Dr. Ibrahim conducted the research on placental cell culture that exposed to different low doses of Atrazine and observed some apoptotic factors TNF and its receptor 1, P53 and Bcl2 behavior during the placental developing.
One of the key criteria of placental affection is the deviation of these apoptotic factors from normal values, which may explain the adverse effects on the intrauterine fetus
Dr. Ibrahim said the placental cell apoptosis and death is associated with increasing TNF and P53 levels. Moreover, the decreasing Bcl2 level will worsen the condition.
Women shouldn't stop eating fresh food but taking care of healthy food measurements
Additional co-authors were special education lecturer of Cairo University, Marwa Issak of Cairo University, and Manal wiss of Benisuef University.
A paper about the study appeared recently in American Journal of Clinical and Experimental Medicine journal.
Here is the paper link:
http://www.sciencepublishinggroup.com/journal/paperinfo.aspx?journalid=254&doi=10.11648/j.ajcem.20150304.21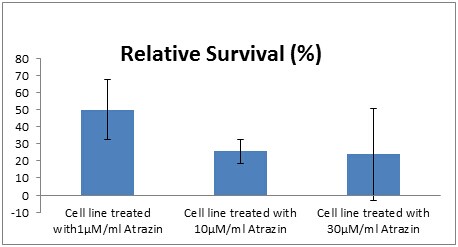 Figure (1): relative survival % of human cytotrophoblasts exposed to different Atrazine's concentrations.