A recent study conducted in Nairobi County, Kenya suggests that alcohol use is still rampant among secondary school students, with both boys and girls using alcohol and majority being boys.
By Shoko at el, 10 May 10, 2016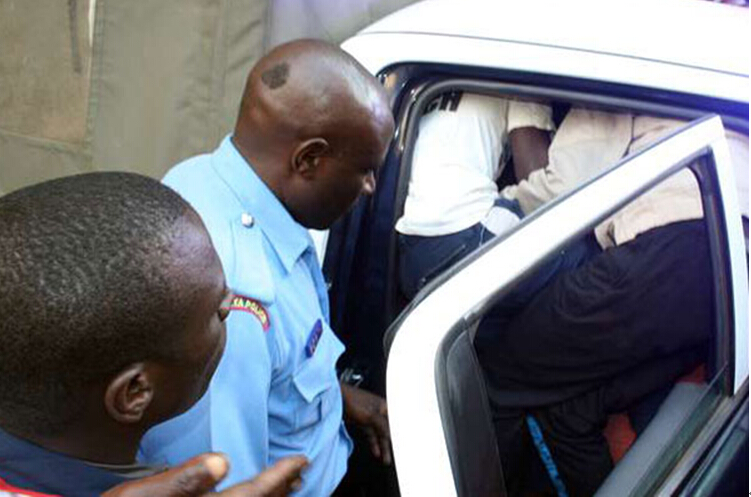 Some of the students being bundled into a Police car after being caught drinking alcohol at Jerry City Hotel and Bar on Dubois Road in Nairobi on October 20, 2015. Photo by Robert Ngugi, Nation Media Group 
Alcohol use among school going children remains an important area of research due to the implications of early substance dependence on the future of the youths such as school dropout, poor performance in school and risky sexual behaviors. Alcohol use is one of the top problems confronting the nation today especially among secondary school students in Nairobi County, Kenya. Nairobi County hosts the city of Nairobi which has a unique sub-culture and other researchers found Nairobi to be both a transit and destination point for hard drugs and alcohol included. Despite laws such as The alcohol Drinks Control Act 2010 introduced with the aim of countering the negative social, health and economic consequences of excessive consumption of alcoholics drinks and adulteration of local brews, secondary school students are seen consuming alcohol, for example there was anger and shock across the country after 45 high school students were arrested on 7 August 2015 for smoking bhang, drinking and having sex in a moving bus as reported by James Ngunjiri.
Recent paper by Shoko et al, indicates that alcohol use is widespread among students with 32.4% of students saying that they have consumed alcohol. The largest proportion of students started consuming alcohol when they were aged between 16-20 years at 75.7 % and there were relatively few cases between 10-15years at 18.6% and 21-25yeras at 5.7% years as per 216 students sampled from 8 selected district mixed day secondary schools in Nairobi County.
The prevalence rate of lifetime alcohol use in this paper was 32.4 %. The authors also found Moonwalker, Bluemoon, Meakins, Kenya king and Reds as the commonly used types of alcohol. Chang'aa and Busaa were the least abused. Counseling teachers differed with the students in regard to chang'aa, as they stated that chang'aa is still being used but in hiding as they fear that their parents will be arrested for manufacturing chang'aa in unhygienic places. The counseling teachers have been also experiencing the problem of students using alcohol as one of the interviewed counselor stated that "boys normally carry alcohol in water bottles disguised as water and consume it during break and lunch time".
In their paper, the authors indicate a variety of factors that contribute to alcohol use with the majority of students citing peer pressure, availability, confidence booster, depression, experimentation, curiosity and family history. The authors also noted that the students were aware of the effects of alcohol use as evidenced by their response on the effects. In the present study, negative effects linked to alcohol use by the respondents included, violence and fights, school dropouts, disrespectful, absentiseem, immorality, poor concentration and sexual abuse.
Shoko et al, (2016) indicate summoning of parents to school, guidance and counseling, suspension, heavy punishment and expulsion as the strategies used to counter alcohol use among secondary school students. "A chi-square test at 5% level of significance further showed that alcohol use was not depended on gender of students, but strongly depended on peer pressure, family environment and age". The study recommended that counseling services be strengthened in schools. The teachers need to be trained in the field as this will enable them to confidently and professionally help the affected." Clean water should be provided in school in order to curb the incidences of students bringing alcohol in water bottles disguised as water". The authors also recommended that, awareness should be created on the impact of alcohol use on students and this can be done through workshops, peer group counseling among others. This should be a joint effort between school authorizes, students, parents, government, nongovernmental organization, NACADA and so forth. The study concludes that stringent measures should be put in place in order to address the issue of alcohol use among the students.
Authors:
Shoko Gloriah, Nyavanga Jamael Eunice & Kimani Makobu, Department of Public Health Human Nutrition and Dietetics, Kenya Methodist University, Nairobi, kenya.
A paper about the study of alcohol use by secondary school students in Nairobi County, Kenya 2016.
Paper Link:
http://article.sciencepublishinggroup.com/html/10.11648.j.sjph.20160403.16.html