Should be more Conscious about Garments Factory Waste for Saving the Environment and Human Life
Proper management of garment factory waste cut down or expels adverse impacts on the environment and human health and assistance economic upliftment and elevated quality of life.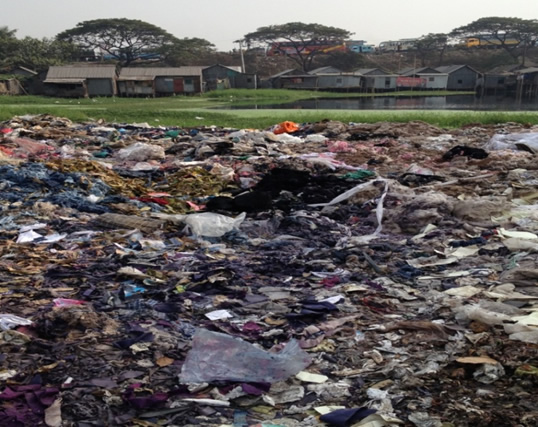 In a recent paper by author Jing, waste is one kind of discarded materials which have to discarded, in order to make new raw material for reuse for new products.
According to Akter, Acott, Sattar and Chowdhury, Solid waste disposal possesses a greater problem because it leads to land pollution when openly dumped, water pollution when dumped in low land and air pollution when burnt.
At present Garment waste is a serious problem and an extensive health treat in Bangladesh comparatively comprehensive laws on waste handling do exists, but enforcement is hardly taking place and systematic disposal of different types of waste is rather limited. For the development of economy more concentration is being installed on environmental and health hazards and most of the companies are taking initiatives to setup treatment plants or other measures. In Bangladesh However, the know-how and technical calibers of establishing and managing industrial waste is limited and market opportunities exists for almost all kinds of technologies that deals with industrial waste whether it is in textile, leather or other areas. Particularly in garments sector seem to posse extensive potential for setting up effluent treatment plants. As a part of the garments waste management and growing awareness of textile recycling and its conveniences to environment and economic issues, many countries in the world are herein before using the best technologies under all aspects from raw material to waste to generating new products.
For the changing of demand and life style, people of the world wants new fashionable cloths frequently and fulfilling this expectation garments factory are increasing day by day. In industrial areas, the local environment and peoples are influenced by both chemical and organic pollutants, because of textile dyeing industries. Particularly in Bangladesh, as most of the factories specially dyeing industries are throwing their waste directly to Shitalakkhya River without treatment, the water of this river is getting highly polluted and the concentration of these pollutants is increasing in an alarming rate. So it is necessary to take initiatives immediately to minimize the pollution to a significant extent and reduce health hazard problems.
The model explains also the nuclear force acting between two nucleons by the gradient of static quantum pressure generated by an equal but opposed gradient of the total dynamic quantum pressure produced by another nucleon by its total vortexial field given by the magnetic moments of its quasielectrons and acting over the impenetrable quantum volume of the attracted nucleon.
An important consequence of the proposed model refers to the possibility of the antigravitic pseudo-charge generation and to the possibility of quark- particle transforming at high temperatures, close to the quarks deconfination temperature.
Authors
Md. Masud Alom, Department of Civil & Environmental Engineering, Uttara University, Dhaka, Bangladesh.
Paper link:
http://article.sciencepublishinggroup.com/html/10.11648.j.ajce.20160403.13.html