A case of Whipple's disease evades diagnosis for two years by mimicking palindromic rheumatoid arthritis.
A 78 year old male who was being investigated for palindromic rheumatoid arthritis for 2 years was ultimately confirmed to be suffering from Whipple's disease by duodenal biopsy after several admissions to hospital with a myriad of clinical symptoms.
Whipple's disease is a relatively new disease which causes significant morbidity and mortality especially when it goes unnoticed and untreated. The main reason behind this is that it manifests with a wide array of non-specific signs and symptoms during a prodromal stage which can last for six to ten years after which it develops into the full blown disease. Coupled with this is the fact that it is an extremely rare disease makes the diagnosis one that is unlikely to be suspected, if considered at all.
A case in point is that of a 78 year old Maltese gentleman who for about 2 years had been followed up by rheumatologists for fleeting joint pains and investigated for palindromic rheumatoid arthritis. It was only after multiple admissions for different symptoms such as epigastric pain, anorexia, fatigue and blackish loose stools that the underlying diagnosis was finally clinched.
During the last of these admissions, faced with a constellation of these symptoms, Mr. E. Ellul, the consultant general surgeon and his team proceeded with an oesophagogastroduodenoscopy with gastric and duodenal biopsies to shed light on the cause of this gentleman's symptoms. Histological examination of the duodenal biopsies showed stunted villi and a population of foamy macrophages and sparse eosinophils expanding the lamina propria. The macrophages expressed CD68 and cytoplasmic granules were strongly periodic acid-Schiff (PAS) – positive and diastase resistant, features that strongly point towards an infection with Tropheryma whippelii, the causative organism of Whipple's disease.
This revelation changed the trajectory of the patient's management from one in which disease modifying anti-rheumatic drugs (DMARDs) could have been considered to one with long term antibiotics consisting of an initial 14 day treatment with intravenous Ceftriaxone followed by long term Co-trimoxazole for at least one year. Had the diagnosis been missed and the patient treated with DMARDs, their immunosuppressive effects could have lead to dissemination of infection with potentially fatal sequelae.
In retrospect, the previous hospital admissions might have also been caused by Whipple's disease. It was noted that after a course of antibiotics in a previous admission, the patient claims to have regained his health and independence. However, since he did not have the full course of the appropriate treatment for Whipple's disease he presented again after a year with the full blown clinical picture.
This case highlights the need for clinicians to keep Whipple's disease in their list of differential diagnoses, given that it is a potentially fatal yet treatable disease.
Paper link:
http://www.sciencepublishinggroup.com/journal/paperinfo?journalid=159&paperId=10013533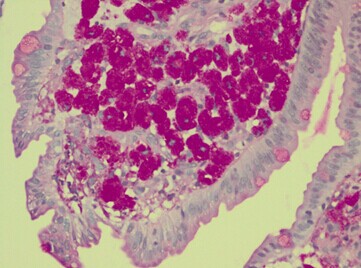 PAS-positive histiocytes H&E x400 (Gatt N, Department of pathology, Mater Dei Hospital, Malta).
Authors:
Stephanie Santucci1, Ernest Ellul1, Noel Gatt2, Jonathan Cutajar1, Leigh Joseph Calleja1
1Department of Surgery, Mater Dei Hospital, Msida, Malta
2Department of Pathology, Mater Dei Hospital, Msida, Malta