A practice communication design with Bluetooth LE technology based on Continua design guidelines V4.0.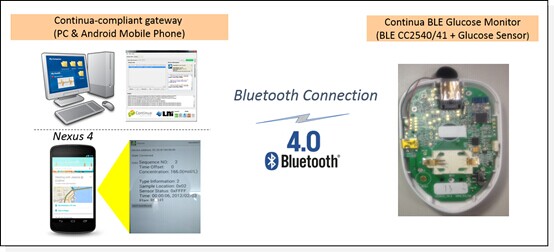 The author aims to propose an interoperability solution with Bluetooth LE technology for emerging personal healthcare systems. The proposed Continua BLE glucose monitor, based on international standards and Bluetooth LE specifications, provides an interoperable platform that meets various conformance requirements. Users can transmit blood-glucose data to any application host device (AHD) certified by Continua Health Alliance via the Bluetooth LE interface.
To verify the interoperability as well as conformance requirements of the proposed Continua BLE glucose monitor worked together, a Continua-compliant gateway was set up. The results showed the glucose measurement data was successfully transmitted from the Continua BLE glucose monitor to the Continua-Compliant gateway via the Bluetooth LE interface. The Continua BLE glucose monitor is interoperable with the Continua-Compliant gateway. In addition, all test cases for x73-PHD standards and Continua design guidelines were positive. The BLE communication design of the Continua BLE glucose monitor has potential to improve care quality for an increasing number of chronic and elderly patients using limited financial and human resources.
Authors
Mr. Yuan-Fa Lee, Biomedical Technology and Device Research Laboratories, Industrial Technology Research Institute, Tainan. Taiwan, R.O.C.
Paper link:
http://www.sciencepublishinggroup.com/journal/paperinfo.aspx?journalid=133&doi=10.11648/j.wcmc.20160401.11