Reproducing of Failure Mode for Concrete Beam in Experiments and Numerical Testing
Numerical testing to complex FRP reinforced concrete structure models of external loading are rapidly developed to describe and predict the failure process and final failure mode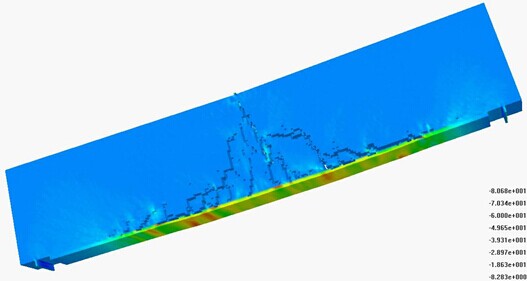 In a recent paper by author Dr J.X.Zhang, the fracture behaviors of concrete beams strengthened with FRP sheet were studied through experiments and numerical simulation methods. The numerical model can simulate the progressive failure in a more visualized way, and the numerical code was proved to be an effective way for understanding the failure mechanism of the reinforced concrete structures.
"The three dimensional Realistic Failure Process Analysis(abbreviated as RFPA3D )code based on RFPA 2D model is developed to describe and predict the deformation and fracturing of 3D brittle materials by considering the heterogeneity of materials.
In the paper, Zhang shows how the failure mode was influenced for the FRP reinforced concrete beams with different width through experiments and numerical simulation method. For the experiments, it was tested under three-point bending test by the microcomputer control electron universal testing machines; the RFPA code was numerically discretized into regular cubic elements. Each cubic element has 8 nodes with three degree of freedom per node. The heterogeneity of the material is taken into account by assigning different properties to the individual elements according to the real material structure, Modified Mohr-Coulomb strength criterion with tension cut-off was adopted in the model, where a stressed element can damage in shear of in tension.
The Realistic Failure Process Analysis system was applied to overcome the deficiency of physical experimental observation, failure analysis, high cost and long cycle of experiment. The experimental phenomena and computing information which can't truly represent in the lab can obtained through the numerical simulation method. Through the perfect combination of RFPA system, high performance computing cluster system and virtual reality system, it has become a strong scientific research and engineering analysis methods and tools, it can provide the users with the complete solution of question research, monitoring service, numerical test and early warning of disaster. Through the experiment data and numerical simulation results, it would provide valuable information for both research and design applications.
Author:
Dr J.X.Zhang, College of Resource and Civil Engineering, Northeastern University, Shenyang, China.
A paper about the study appeared recently in International Journal of Material Science and Application
Paper link:
http://www.sciencepublishinggroup.com/journal/paperinfo?journalid=123&doi=10.11648/j.ijmsa.20160501.15