Ethics is the code of conduct of Business. It is a highly significant considerable issue in case of any advertising. But the uses or degree of competition of unethical practices of advertising are increasing in Bangladesh than the before. Most of the multinational, global and local companies use some unethical and misleading advertising to increase their immediate sales volume of products by providing untruthful and over colored information about their products qualities and ingredients. For this reason, standard and branded companies can't achieve customer's satisfaction and their desired goal.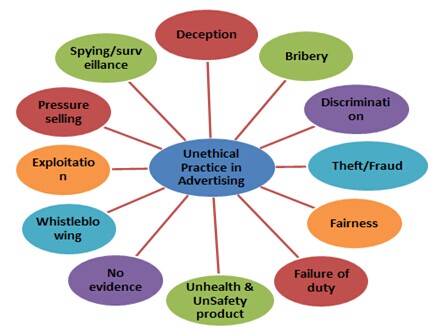 Figure 1. Elements of Unethical Practices / Misleading Advertising.
The author Md. Nekmahmud Argon, BBA final year student, Department of Marketing, Begum Rokeya University, Rangpur, Bangladesh has conducted this research work.
The main objective of the study attempts to make the customer awareness regarding unethical practices of advertising in Bangladesh.
Nekmahmud has studied the status of unethical practices of advertising in Bangladesh. Energy drink, Fairness Cream, Mango Juice, Shampoo & Hair Conditional, Vital Nutrient Product, Telecommunication and Face Wash products are involved with misleading advertising practices in Bangladesh. Companies of Bangladesh provide wrong and over colored information about their products quality and characteristics while their advertising.
'By using fairness cream You can be bright, beautiful and attractive within 1 week' but People believe that the use of the creams could cause skin problems such as itchiness, rashes, dryness, pimples, hardness and darkness of the face skin. 'Mango juice is made with pure and fresh Mango and there is no preservative in it' but The using of high amount of preservatives that had bacteriostatic effect on microbes and cause health hazards to consumers. In this case those companies deceive their customer and sales huge amount of mango juice by giving wrong and unethical advertisement copy. 'By taking Nutrient product you will be taller, sharper and stronger' but If every child may taller by drinking this product then every person may taller in the country. There will not be any short people in the country. Maximum respondents experienced that Nutrient product is energetic, but it cannot increase the height. 'Get energy and power by drinking Energy Drink' but Energy drinks contain large number of caffeine and an assortment of other hazardous ingredients, which is very harmful for our health and entire society. '100% hair fall is stopped Within 14 days by using Shampoo & Hair Conditional' however hear fall problem is remaining constant. It does not work properly Dandruff never removes forever. So the consumer being cheated due to false and unrealistic advertising copy. 'By using face wash regularly 100% prevent your pimples and make your skin clean, fresh, and glowing within 14 days' however, most of these creams are non-prescriptive products and could potentially cause facial skin problems. So the information of their advertisement copy is false, confusing and baseless. The consumer being cheated due to false and unrealistic advertising copy. All kinds of cosmetics are harmful for our skin. But they never say it in their advertisement copy or make customers conscious about this.
Maximum Companies aren't maintaining the law of the Consumer Rights. For this reason fair company can't achieve their goal and customer can't believe any company at present.
Researcher Nekmahmud believed that the unethical advertising practices occurrence characteristics in modern society are: the criteria's of justice, integrity, honesty and the eligibility, non-compliance, the creation of a false impression, the presentation of false and inaccurate facts, the conversion of social values of products, the manipulation of impulsive consumers, the control of subconsciousness, the impact on persons economic behavior or possibility of the impact. Advertising copy is the most important part of any advertising. So every company or advertising agency should provide correct information to their customers by advertising copy. Advertising copy must be ethical and credible. Informative, correct, creative and beautiful advertising makes a good effect on the economy of the country. The marketer should try to gain the morality and credibility besides gaining the profit. Government should take proper steps and monitor the existing law of advertising to stop unethical practices Of advertising in Bangladesh We hope that every company should respect all the advertising rules & regulation and maintain or honor consumer right's. They can gain profit by giving the informative, correct, credible information to consumer and developed the society with morality.
Author:
Md. Nekmahmud, Department of Marketing, Begum Rokeya University, Rangpur, Bangladesh
A paper about the study appeared recently in International Journal of Economics, Finance and Management Sciences
Paper link:
http://www.sciencepublishinggroup.com/journal/paperinfo?journalid=173&doi=10.11648/j.ijefm.20160401.12