Three young researchers from Bangladesh have set up a simple yet unique measure of organizational capability; the capability to deliver quality products and services to its customers.
Sayeda Ismoth Iqbal, Mohammad Rajib Uddin and Samin Ishraq Siddiquee in their new research paper titled "An Essay on the Potential for Successful Adoption of Quality Assurance Practices at Ispahani Islamia Eye Institute and Hospital" look at the issue of quality from a totally new perspective. This research, which has recently been carried out in a 60 year old eye institute and hospital in Dhaka, the capital city of Bangladesh, examines whether organizations have reached a point in their life cycle which supports the implementation of a Quality Management System.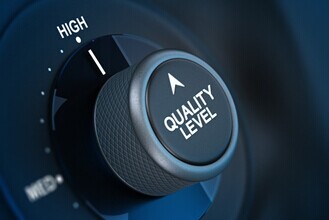 The paper is aimed at understanding the psychology of organization's that are mulling the design and implementation of a Quality Management System for the first time. The authors of this research make a convincing case against the notion of Quality Management Systems as silver bullets for troubled organizations/processes. The research argues in favor of an evaluation of the organizations status quo before any attempt is made to impose a Quality Management System on the organization's employees; an imposition, which according to the authors of this paper, may have significant negative consequences on the organization's health. A section from the paper reads "They(Quality Management Systems) can only work when the organization as a whole is willing to accept it and more importantly has the knowhow, skills and intention to implement it. Implementing a QMS, when there is a lack of readiness to do so, will cause myriad troubles for any organization."
The authors introduce a solution in the form of a simple and inexpensive yet effective measure for gauging organizational preparedness for the implementation of a Quality Management System; a model which they have termed the "Quality Triangle;" the result of which spells explicit instructions and demarcations for any organization planning on introducing a Quality Management System. The model revolves around the evaluation of the organizations strengths in special criteria which the authors have identified, and justified as well, to be of significance to any organization which is desirous of mapping quality through a formal system.
The authors claim that the Quality Incline is for all organizations, regardless of industry or position in the supply chain. According to co-author Syeda Ismoth Iqbal, organizations may use this model to gauge their preparedness at any time, and as many times as needed, until the organization reaches a stage which is at the feasibility threshold of Quality Management System implementation.
Authors
Syeda Ismoth Iqbal, Lecturer, Department of Marketing, American International University-Bangladesh, Dhaka, Bangladesh
Mohammad Rajib Uddin, Assistant Professor, Department of Operations Management, American International University-Bangladesh, Dhaka, Bangladesh
Samin Ishraq Siddiquee, Department of Quality Assurance, Ispahani Islamia Eye Institute and Hospital, Dhaka, Bangladesh
Picture:http://samatechnology.ae/wp-content/uploads/2014/12/1st-featered-project.jpg
Paper link:
http://www.sciencepublishinggroup.com/journal/paperinfo.aspx?journalid=175&doi=10.11648/j.sjbm.20150306.18