Oxidative stress is thought to play a key role in a variety of diseases including cancer, cardiovascular diseases, diabetes, Alzheimer's disease, Parkinson's disease and with the increase in the antioxidant intake can prevent diseases and lower various health problems.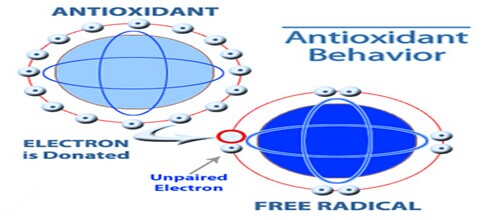 Free radicals can cause "oxidative stress," a process that can trigger cell damage. Antioxidants combat oxidative stress by working to neutralise excess free radicals and stopping them from starting the chain reactions that contribute to various diseases and early aging. Different types of natural antioxidants are present in fruit and vegetables; they have synergistic interactions that are important due to their activity and regenerative potential.
In the recent paper by Middleton, Jr. E- it was shown that, in humans the over production of Reactive Oxygen Species (ROS) can result in tissue injury and has been implicated in disease progression and oxidative damage of nucleic acids and proteins.
It has been observed by Duan M & Spoendlin H, that, with massive noise stimulation, an excessive amount of glutamate, which is a neurotransmitter at the junction of the inner hair cells and afferent neuron in the peripheral auditory system, is released resulting in ionic influx and massive entry of water and extracellular calcium into the afferent neurons, causing cell death and noise induced hearing loss and subcutaneously administered caroverine which is one of the antioxidant decreases the impulse noise - induced hearing loss in rats.
It has been shown by, Khan, N et al- that many of the anti - cancer properties associated with green tea are thought to be mediated by the flavanol Epigallocatechin gallate (EGCG), which has been shown to induce apoptosis and inhibit cancer cell growth by altering the expression of cell cycle regulatory proteins and the activity of signalling proteins involved in cell proliferation, transformation and metastasis.
The most widely studied dietary antioxidants are vitamin C, vitamin E and beta-carotene. Vitamin C is considered the most important water - soluble antioxidant in extracellular fluids, as it is capable of neutralising ROS in the aqueous phase before lipid peroxidation is initiated. Defensive antioxidant mechanisms; vary according to cell and tissue type and may act antagonistically or synergistically.
Authors
Chandani T. Desai, Biotechnology Department, Shree Ramkrishna Institute of Computer Education and Applied Sciences, Surat, Gujarat, India.
Gaurav S. Shah, Biotechnology Department, Veer Narmad South Gujarat University, Surat, Gujarat, India.

The paper appeared recently in Science Innovation
Paper link:
http://www.sciencepublishinggroup.com/journal/paperinfo?journalid=180&doi=10.11648/j.si.20150306.18