Crime in Kenya unfortunately is on the rise with Nairobi, Nakuru, Mombasa and Kisumu being the majorly affected towns.
Crime in Kenya unfortunately is on the rise with Nairobi, Nakuru, Mombasa and Kisumu being the majorly affected towns. Crimes against property in Kenya is increasingly becoming rampant with the most common forms of crimes being carjacking along the country's highways, muggings and robberies, terrorism, human/drugs/arms trafficking, cyber-crimes, confidence tricks and scams, pickpocketing and bag snatching.
These heavier crimes typically happen after dark, or in abandoned areas. There have been cases of abductions of matatus at night. Criminals get in as passengers and pull a weapon to force the matatu to go somewhere where you will be robbed of valuables. There are common forms of crime in Kenya as well and occur typically during the day in crowded places. Pick-pocketing and bag snatching are the most common form of crimes that happen during the day. Ladies around the country have reported cases of their bags being snatched from them in broad day light as well as men have reported cases of their wallets and mobile phones being pick-pocketed from them. In Nairobi there are cases of foreigners running into confidence tricksters who play around with their emotions and gullibility. They use various tricks among them claiming to help them trace their ways around the city and its outcasts but later on con them their money or even rob them their valuables.
Lead author Chris Muchwanju who conducted the research for his master's degree in applied statistics, analyzed crime rate in Kenya across the eight provinces with the aim of fitting a model to help identify the factors that causes increase in crime levels in the county. This would subsequently aid policy makers, communities, National police service to embrace a collaborative decision framework in tackling crime in the society. Current interventions are ineffective despite since they do not explain the factors that causes crime increase in totality.
The main cause of crimes in urban slums in Kenya is youth unemployment. Unemployment causes idleness in most youths who later ventures into crimes so as to fend for their day-to-day needs. Crimes in urban areas are most commonly conducted by terror gangs who terrorize common citizens to get valuables from them which are later on sold in exchange of money. There are regular reports of attacks against persons by groups of armed assailants leading to serious bodily harm to the victims and sometimes cause death.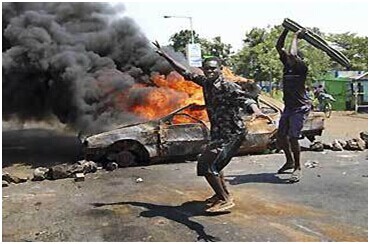 Angry youth burning a car during the post-election violence in Eldoret, 2007.
According to the research, it was also noted that most criminal activities are carried out by the young men aged between 15-30 who form criminal gangs especially in slums. They are the ones who form the largest percentage in gangs although more baffling is the presence of girls among the groups who play peripheral roles. According to police reports in Nairobi, one gang member is gunned down daily and the number is feared to increase if nothing is done to end this. " Almost everybody is armed and I am not talking about one or two guns, there are thousands of them in the hands of young boys and girls", Kayole OCPD Ali Nuno.
The most important stakeholder in fighting crime are members of the public. They are expected to report any crime to the right security personnel who are the police since most of the people who engage in crime are known by members of the public. Police are then expected to take the right procedure after members of the public file a crime case. From the study also, it was found that educating the youth and occupying them with work can also help reduce crime as this will keep them engaged and useful in the society. Furthermore, the public should report any crime when it occurs since more arrests ensures that the criminals are put behind bars and this helps reduce crime.
Authors
Chris Muchwanju, Student, Jomo Kenyatta University of Agriculture and Technology- Kenya.

A paper about the study appeared recently in the American Journal of Theoretical and Applied Statistics.
Paper link:
http://www.sciencepublishinggroup.com/journal/paperinfo?journalid=146&doi=10.11648/j.ajtas.20150406.20