Besides their home work, Bangladeshi women have higher rate of participation in different income generating activities (IGAs) which yields higher income to them. They opined that income from IGAs assist to reduce their poverty to much extent.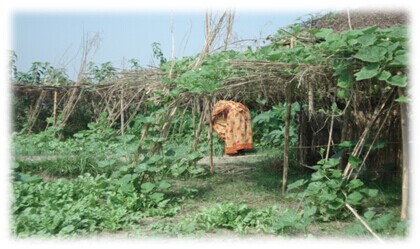 In a recent paper on the women in Gazipur district of Bangladesh by the author Shaikh Shamim Hasan et al., young and middle aged women are participating several IGAs related mainly to agriculture. By participating these IGAs, they earned considerable amount of money. This extra income assist them running their family smoothly which ultimately eradicate their poverty.
"Involvement of women of Gazipur, Bangladesh taking parts several IGAs which they can manage mostly by themselves besides homework. These IGAs gives them an opportunity to earn additional income which ultimately utilize for boosting up their situation ultimately for well being of their family", Hasan et al. said.
In the paper, the findings from Hasan et al., showed that majority of the women were young to middle aged had higher literacy rate. Family size of the respondents was small and medium and they had small farm size. Respondents' had medium agricultural knowledge and higher participation in IGAs. Moreover, they possessed favorable attitude towards IGAs. This condition of good agricultural knowledge and favorable attitude helped the women to develop high opinion towards participation of IGAs. The higher rate of participation assisted the women to earn good return.
In this paper, Hasan et al., utilized survey method to collect relevant data from the respondent women. Total number of 125 women was selected as sample from the population deploying the simple random sampling technique. This study treated SPSS program to analyze the statistical measurement and multiple regression was used to finding out the relationship between socio-demographic characteristics of the respondents and their opinion towards poverty alleviation through IGAs.
The findings of the study suggest that after joining into different IGAs the women are triggered more to earn money to help to boost up their current situation into a more positive direction. This situation can be accelerated more by arranging more need based training program and extension activities related to agriculture for upgrading their knowledge and attitude towards IGAs.
Authors
1. Shaikh Shamim Hasan, Assistant Professor, Department of Agricultural Extension and Rural Development, BSMR Agricultural University, Gazipur, Bangladesh. and PhD Research Fellow, Institute of Geographic Sciences and Natural Resources Research (IGSNRR), Chinese Academy of Sciences (CAS), Beijing, China.
2. Moushumi Hossain, Ex MS Student, Department of Agricultural Extension and Rural Development, BSMR Agricultural University, Gazipur, Bangladesh.
3. Sabina Sultana, Additional Agricultural Officer, Gazipur Sadar Upazila, Gazipur, Bangladesh.
4. Mithun Kumar Ghosh, Lecturer, Department of Agricultural Extension and Rural Development, EXIM Bank Agricultural University, Chapainawabganj, Bangladesh.

This paper published in Science Innovation of Science Publishing Group.
Paper link:
http://www.sciencepublishinggroup.com/journal/paperinfo.aspx?journalid=180&doi=10.11648/j.si.20150306.13