Different Story of Stroke in a Rural Hospital in a Developing Country; Variation in Clinical Pattern, Risk Factor Profile and Mortality from the Developed World
The proportion of stroke due to intracerebral hemorrhage is higher in developing countries. This is explained by the difference in risk factor profile with hypertension being the single most common factor in developing countries. Stroke mortality is also quite high in developing countries due to lack of treatment modalities and delayed presentation of patients.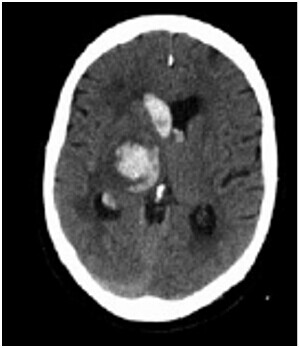 Figure Brain CT scan showing hemorrhage in to basal ganglia
In a recent paper by Dr. Ermias S. Greffie and his team, the proportion of hemorrhagic stroke was 30% out of a total case of stroke in a rural hospital. This while similar to reports from other studies in developing countries, was quite high compared to western studies. Dr. Greffie said that this difference in clinical pattern was most probably due to difference in risk factor profile of stroke in the two worlds. He continues to say "While hypertension takes the lion's share among risk factors for stroke in our set up, smoking, diabetes, dyslipidemia and obesity leading to atherosclerosis are the most common risk factors in the developed world. The high burden of hypertension associated with suboptimal screening and treatment is currently associated with high morbidity and mortality from hypertension associated end organ damages, with stroke being the leading one"
In the paper the team shows that the prevalence of atrial fibrillation among ischemic stroke patients was quite higher than reports in other studies. Greffie said "In a rural community where the acquired risk factors for stroke due to urbanization are not so common, cardioembolic stroke due to atrial fibrillation and other structural heart diseases could be the main reason for ischemic stroke. The significance of this finding is that most of the ischemic stroke could have been prevented if these patients were picked earlier and put on prophylactic anticoagulants."
The mortality of stroke was high in the study. "Given the poor capacity of the hospital to emergently diagnose and manage complications of stroke and the relatively higher occurrence of the grave intracebral hemorrhage, the high mortality is an expected finding." said Greffie.
Finally, the study team recommended that appropriate screening and treatment of the two giants, hypertension and atrial fibrillation, in the developing community is invaluable for the prevention of stroke. And as stroke is becoming a common threat, hospitals should be better equipped with a setup capable of managing stroke and its complication and rehabilitation. Improving the awareness of the community in the subject is also very important.
Authors
Dr. Ermias S. Greffie, Internist, Department of Internal Medicine, University of Gondar, Ethiopia
Dr. Tadesse Mitiku, resident, Department of Internal Medicine, University of Gondar, Ethiopia
Dr. Seid Getahun, resident, Department of Internal Medicine, University of Gondar, Ethiopia

A paper about study recently appeared in Clinical Medicine Research
Paper link:
http://www.sciencepublishinggroup.com/journal/paperinfo?journalid=151&doi=10.11648/j.cmr.20150406.13