Energy is deposited in material concerned as radiation passes through matter, the ionised atoms and molecules cause chemical changes in the material. Cancer a disease cause by the division of abnormal cells in an uncontrolled manner is most likely to affect radiated tissues.
Recent paper by Duodu et al has revealed a high prevalence of overweight and obesity of 31.8% and 28.9% respectively among practicing nurses and midwives in the Hohoe Municipality of the Volta Region, Ghana as indicated in other similar studies worldwide when compared with the World Health Organization's criteria for Body Mass Index (BMI).
Overweight and obesity describe excessive fat accumulation in the body that may impair health. They are associated with a greater risk of disability and premature death due to type 2 diabetes mellitus (T2DM) and cardiovascular diseases (CVD) such as hypertension, stroke and coronary heart disease.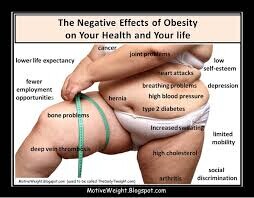 In the paper, Duodu et al shows that risk factors contributing to overweight and obesity among the study group included physical inactivity/sedentary lifestyle, eating late in the night, aging, sex, marital status and parity or number of births.
The authors also indicated that majority of respondents (62.9%) did not know their current status of BMI and had the perception that they were of normal weight until their anthropometric measurements were taken for them to realize their real BMI.
Using Waist Circumference to determine central or abdominal fat accumulation, 11.5% (3) of male respondents and 58.6% (53) of female respondents were found to be obese and therefore have higher risk of obesity-related metabolic complications as compared to 88.5% (23) males and 51.4% (56) females who had normal abdominal fat distribution. Moreover, the risk of a female nurse or midwife becoming obese (centrally) was 7.3 times higher than that of male nurses.
The authors recommend that local health authorities (Hohoe Municipal Health Directorate and the Hohoe Municipal Hospital) should use the findings for planning, implementing and monitoring the effectiveness of local programmes for the prevention and control of overweight and obesity among health workers especially nurses and midwives in the Hohoe Municipality and beyond. These measures include wellness and fitness programmes (health walk, jogging, gymnasium, soccer, including creating opportunity for physical activities by expanding existing health facilities such as the physiotherapy unit to benefit more staff) as part of reviving nutrition and regenerative health programme to increase physical activity.
Finally, local health authorities should make sure that healthy diet/dietary modification education campaign is carried out continuously to enable staff adopt long-term behaviour change and more in-depth understanding of individual, interpersonal, organizational and community factors that affect this behaviour in the context of different ethnicity and culture.
Authors
1. Charles Duodu, Public Health Officer, Ghana Health Service, Volta Regional Health Directorate, Ho, Volta region, Ghana
2. Thomas Kwasi Awuni, Public Health Officer, Ghana Health Service, Agona East District Health Directorate, Agona-Nsaba, Central region, Ghana
3. Prosper Attito, Public Health Officer, Ghana Health Service, North Dayi District Health Directorate, Anfoega, Volta region, Ghana
4. Francis Bruno Zotor, PhD, RNutr, FHEA, Head, Department of Family and Community Health, School of Public Health, University of Health and Allied Sciences, Ho, Volta region, Ghana
A paper about the study that appeared recently in the Science Journal of Public Health
Paper link:
http://www.sciencepublishinggroup.com/journal/paperinfo?journalid=251&doi=10.11648/j.sjph.20150306.18